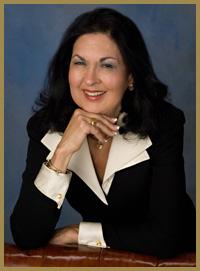 Attorney Christine C. Weiner provides comprehensive, highly personalized estate planning counsel to couples, families, individuals and businesses. As the firm's founder, Christine upholds the highest standard of client services, scholarship and accessibility. She listens closely to her clients' goals, dreams and concerns, and then works with her clients to develop superior individualized plans. Christine is committed to helping her clients understand that the foundation of estate planning is not just saving tax dollars, but also appreciating the value of planning for themselves and their loved ones, in order to Leave a Lasting Legacy®.
Experience
A respected teacher and lecturer, Christine serves as counsel to accountants, lawyers, financial planners, insurance professionals, charitable organizations and the public. Christine has spoken to groups at such varied locations as art galleries; public libraries; hotels, resorts; and at lawyer functions, such as bar association groups and continuing education events. She has been practicing law for more than 31 years.
Memberships
Christine is on the Board of Exit Planning Institute, Orange County Chapter. Christine is a charter member of WealthCousel, a prestigious group of nationally recognized estate planning professionals. She is a member of STEP Orange County, Orange County Estate Planning Council, past President of Desert Estate Planning Council, past Board Member of Orange County Planned Giving Round Table, past Board Member and Secretary of the Board SPIN Orange County (Serving People in Need), a member of the State Bar of California, the American and Orange County Bar Associations. Christine serves on Advisory Boards to national and local charities, including Desert Communities California State University campus and The Community Foundation. Christine is a member of Muses 100, a women's support group for the local McCallum Theatre, Palm Desert, California.
Education
Christine is a graduate of Western State University, College of Law, where she was selected Editor-in-Chief of Law Review, graduated Summa Cum Laude and, as Salutatorian, ranked number two of her law school class. Prior to receiving her law degree, Christine earned her Master of Arts in International Affairs from George Washington University, Washington, D.C., coupled with a Bachelor of Arts degree in Political Science from Washington State University, Magna Cum Laude and Phi Beta Kappa. After receiving her Master of Arts degree, Christine served as a civilian employee in the United States Department of State foreign aid program for a three-year term in Washington, D.C. She also served as a Foreign Relations Officer in the India Desk Office, and as a Management Intern in the Vietnam Refugee Bureau program. Christine has been certified as a Legal Specialist in the field of Estate Planning, Trust and Probate law by the California State Bar, Board of Legal Specialization. This means she has passed a rigorous written examination; satisfied requirements for extensive experience in these practice areas; fulfilled ongoing educational requirements; and received favorable reviews from other attorneys and judges familiar with her work. She is a Certified Exit Planning Advisor. Christine is licensed to practice law in all the Courts of California, The California Supreme Court, and the Federal District Court. Christine's educational background, advanced training and 20-plus years of experience make her eminently qualified to design a comprehensive estate plan that protects you, your family, your business and your legacy.
Christine is a member of the following:
Christine has been honored by the following:
Orange County Register Metro, Selected for Top Attorneys – 2013, 2014 & 2015
Orange County Coast Magazine, Top Attorneys – 2016-2019
Palm Springs Life, Selected Top Lawyers in Palm Springs – 2012-2020
Orange County Business Journal, Top Women in Business – June, 2012